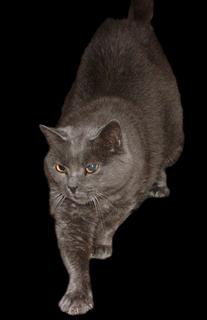 Alternative Name
N/A
Basic Info
The male Chartreux is significantly larger than the female. Mature males tend to reach an average of 9 kilograms while females only weighing somewhere between 3.5 to 6 kilograms. Both the male and female Chartreux looks a bit bigger than their actual size because of their quite voluminous coat. This coat is thick with a very soft down beneath long silver tipped guard hairs. The coat tends to be thicker in males than in females and it will get progressively thicker as the cat nears adulthood. The coat is blue gray in color and the silver tips of the guard hair give it a very unique looking sheen. Occasionally you will be able to see stripes on kittens but these disappear by about two years. Although the Chartreux's body is well defined, it seems a little bit out of proportion when you compare its girth in body size to its relatively short legs. Their feet are round and dainty and therefore they have a slight spring to their walk. They have broad shoulders and an overall muscular appearance as well as a short neck and deep chest. Their ears are of a medium size and sit proportionally well on the cat's head. Their eyes are round and it is preferred that the eyes are orange in color, however they are often seen in copper tones as well.
Health
The Chartreux's thick coat is prone to a good deal of shedding in the springtime. Daily rub downs and twice a week brushings will be not only enjoyed by the cat but also advantageous to your furniture and allergies in the end. The Chartreux coat is water resistant and so if you are planning on bathing this cat, keep in mind that you have a good deal of work ahead of you. The Chartreux is sensitive to highly rich foods and so most cats are weaned to adult food at five months. To keep obesity in line, it may be necessary to feed adults a light cat food. The Chartreux should have regular dental examinations from its vet since they are prone to gingivitis. A breed related health concern is Patellar Luxiation and you should make sure that the breeder you are purchasing your Chartreux from has had both parents checked for this. Failure to pay attention to this can result in complete lameness, since it shows very few symptoms.
Habitat
France
Behavior
The Chartreux is a very social cat that craves attention but is also quite content with spending time alone. The Chartreux usually gets along very well with children and other animals, including dogs. They have a natural hunting prowess and given the opportunity, are happy to dispose of house rodents. This cat is also an excellent climber and given the opportunity, will take advantage of such situations. They are the type of cat that loves to play and are very precise in their 'attacks' on toys. The Chartreux seems to enjoy its owner's bed more than its own and is very sensitive to the feelings of its owner. For this reason, the Chartreux will be there whether you are sad or happy and do everything in its power to make itself a good pet. The Chartreux is a fairly quiet individual. They are very good at purring but instead of a typical cat meow they seem to chirp and do this rarely. The Chartreux makes an all around excellent pet and should be considered by anyone who likes a cat with a great character.
Origin
France
History
The Chartreux has a long history. There are records of the Chartreux from as early as the 1300s but they are best known from the 1500s when crusaders brought them to the La Grand Chartreux monastery in the French Alps â" this may be the origin of their name. It is also theorized that the cat received its name from the soft fine wool called pile de Chartreux. In spite of its long history, the Chartreux was almost completely wiped out after the World Wars. It wasn't until the one important colony was found on Belle Ile, that breeders began to again take seriously the prosperity of the breed. Thanks to the United States and France's excellent breeding program, the populations of the Chartreux cat are steadily increasing. They are still quite rare and thus a bit expensive but they are regaining popularity.
Common Foods
cat food, milk