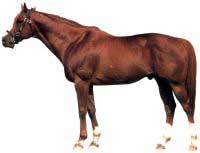 Alternative Name
N/A
Basic Info
Height : 14.2 - 15.2 hh. Colours : Bay, chestnut. Identifying Features : Good strong body, short legs, plenty of bone.
Health
N/A
Habitat
N/A
Behavior
Use : Riding, light draught. There are three types. They have good action and are sure footed. The Kustanair is a tough and hardy horse, calm and energetic and versatile both for riding and in the harness.
Origin
Russia
History
Developed in the 19th century by the Imperial Russian Cavalry. The Kustanair is a Kazahkstan breed of saddle horse developed during the early 20th century and recognised as a breed in 1951.
Common Foods
grass