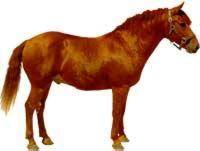 Alternative Name
N/A
Basic Info
Height : 14 hh. Average measurements of Bashkirs Stallions Mares Height 142 142 Body length 146 147 Chest girth 173 170 Bone below the knee 19.5 19 The principal color of the Bashkir is roan with a dorsal eel-stripe, zebra bar markings and a special pattern on shoulders. Now there are many chestnut, gray, brown, piebald and black animals.
Health
Bashkiria is a region of classical tebenevka horse breeding. Like all the Russian steppe horses, the hardly Bashkir is kept out. Huge herds of Bashkirs graze on the pastures unattended. They can survive winter temperatures up to -40 degrees Centigrade, and find food under 1 meter of snow. Only when after thaws soil is covered with ice and horses cannot get feed from under the snow, they are given some hay. In the north of the region some horses, especially crosses, spend winters in barns and in spring are put out.
Habitat
N/A
Behavior
Use : Pack, milk, draught. Capable of work under the most harsh climatic conditions. Types There are two types: the Mountain and the Steppe Bashkir. The former has been crossed with Dons and Budennys, and the latter, a harness type, with both trotters and Ardennes stallions. The Bashkir "Curly" (see below) is an American term which is descriptive of its curly coat. Endurance The Bashkir is surprisingly enduring both under the saddle and when used as a draft horse. Their qualities were appreciated in 1812-13, when Bashkir cavalry regiments came through Europe to France with the Russian army. A Bashkir troika could cover 120-150 km per day. One popular route was from Sterlitamak to Ufa (120 km), which troikas used to cover in 8 hours without being fed en route. Especially valued were Bashkir amblers for their speed and endurance.
Origin
Russia
History
Came from the southern foothills of the Ural mountains of Russia in ancient times.
Common Foods
grass