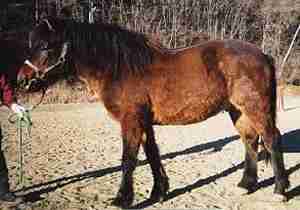 Alternative Name
N/A
Basic Info
Height : 13 hh. Colours : All colours. Identifying Features : Large head, flat withers, upright shoulders, short body, good feet.
Health
N/A
Habitat
N/A
Behavior
Use : Draught, harness. Mostly used as a farm horse.
Origin
Japan
History
Found in the mountain areas in the central part of Japan.
Common Foods
grass