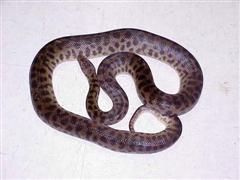 Alternative Name
Childrens Python Scientific Name: Liasis childreni
Basic Info
The Children's Python is a small snake. Hatchlings are usually about 23 centimeters; adult males average 69 centimeters, and females around 72 centimeters. They usually do not have a very distinct pattern, unlike the closely related Spotted Python and Stimson's Python.
Health
Children's Pythons should be kept at tropical temperatures and moderate humidity levels. Breeding Breeding is more likely to be successful if the two sexes are kept separate for a time before breeding. They should be encouraged to brumate by cooling them to between 21 and 23 degrees Celsius. The brumation period should be about ten weeks. Mating usually occurs soon after the end of this period. Most successful breeders remove the eggs from the females as soon as they are laid and place them in a separate container with several centimeters of damp vermiculate. The eggs should be buried about 80%. The ideal incubation temperature is about 30 degrees Celsius. The average incubation time is between 46 and 61 days. Hatchlings usually feed on lizards, although they can be tricked into eating mice. The Children's Python clutch size varies between two and twenty eggs, with the average clutch containing seven eggs.
Habitat
Children's Pythons make their homes in a variety of different types of habitats. They range from arid to very wet climates and live both in flat plains and on hills, however, they prefer hilly, rocky regions to flat ones. They live in areas where there ar
Behavior
The Children's Python is a small, relatively non-aggressive python that is rather easy to care for in captivity. They are native to Australia and surrounding regions. Children's Python is an excellent snake for the beginning snake-keeper. In arid regions, they can often be found where 'spinifex' Triodia, a highly flammable plant that grows in a circle, exists. When no other ground cover can be found, Children's Pythons will live in termite mounds. The snakes enjoy the termite mounds because they are nearly always warm, moist, and maintained by the termites within. Small rodents and lizards also make their homes in these mounds, leaving readily accessible entrances for the snakes. These small animals also provide food for the snakes. Male Children's Pythons are territorial and may fight each other, especially during mating season.
Origin
Northern Australia
History
Children's Python, until 1985, included three subspecies. A researcher from the West Australian Museum determined in 1985 that the three subspecies were actually distinct species, the Children's Python, the Spotted Python and Stimson's Python. The three species have been known to interbreed. Children's Python is generally found in the tropical regions of Northern Australia, including Cape York and Queensland, as well as a few surrounding islands.
Common Foods
N/A