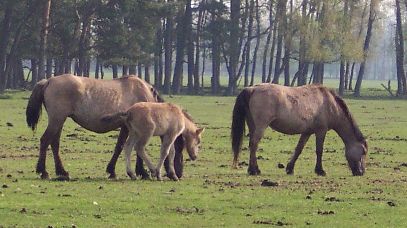 Alternative Name
N/A
Basic Info
The ponies look quite primitive and coarse. Some have the usual dun coloring, while others are brown, black, or chestnut, indicating infusion of outside blood. The ponies have poor hindquarters and a short neck. The horses usually stand 12 – 13 hands (1.2 – 1.3 m).
Health
N/A
Habitat
N/A
Behavior
Use : Feral. The ponies are left to find food and shelter, must cope with illness and death. Therefore, only the strongest in the herd survive, promoting the toughness of the breed, and making them resistant to disease. Once a year, on the last Saturday of May, the ponies are rounded off and the colts separated. The colts are sold at a public auction, and the mares are returned with only one or two stallions. The ponies make good children's ponies and adapt to domesticated life well. They are also good for driving in harness, and are also used to work the land.
Origin
Germany
History
The Dulmen was found near the town of Duelmen, in the Merfelder Bruch area where ponies have been documented since the early 1300s.
Common Foods
grass