THE MISSIONARIES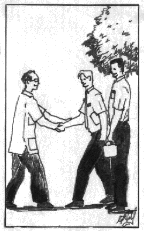 . If you are like the average 'Joe', then what you don't have as actual first hand knowledge about anything in particular will be doubted and avoided by you. It's true like a contagious virus - you don't want it around as it will be harmful to your already satisfied self. You criticize what the majority also ridicules and therefore end up the same as then, not knowing the truth.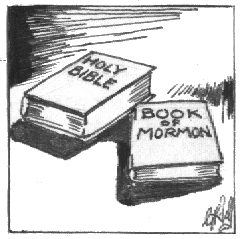 The Gospel can set you free, but it can only be found by those willing to pay the price, which is simple desire to know followed by action to make it happen. It would be foolish to go to a bakery to purchase a cricket bat instead of a reliable sports store, just as it would be to go searching somewhere else for information about The Church Of Jesus Christ Of Latter-Day Saints instead of the source, the full-time missionaries, members and its literature.
Bible and The Book of Mormon drawn by Gavin IshmaelIf great men like Christopher Columbus had concentrated on the rumors and arguments against his theory of the world being round, instead of making the discovery, then what would have happened? Find out fearlessly about the Church or as we are called, the Mormons(4), for yourself. Two missionaries, both Elders of the Church, will visit with you and your family at a time convenient to you. They will share with you a book of scripture called the Book Of Mormon, Another Testament of Jesus Christ. This sacred book covers a time period of more than a thousand years about the ancient American Indians and the prophets of Christ who taught His gospel among them, the highlight of this book being Jesus Christ's visit to these people after His resurrection see (3 Nephi 11). The missionaries can answer any questions you may have.
4. Although this name seems to be attached to the fact we use the Book of MORMON - it should be understood that we refer to ourselves as members of The Church of Jesus Christ of Latter-Day Saints and not members of the 'Mormon Church' or 'Latter-Day Saints Church'.